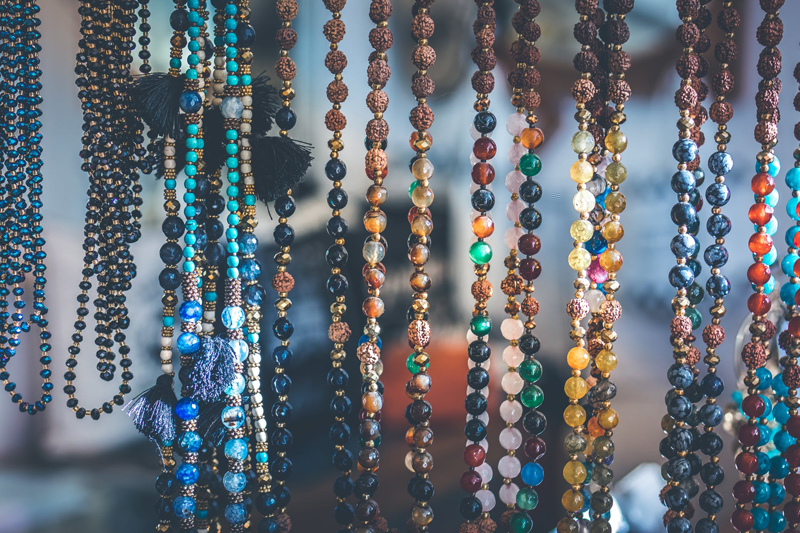 Netted Handflower
For this project, you will need to read through the instructions and diagrams first if you are not familar with increasing and decreasing in vertical netting. If you are familar with it, just skip to the last page which has the graph. This technique is really a lot simpler then it seems in explaining it. Just try it. I can make these bracelets now in about 45 minutes so I have a bunch of them in lots of colors! Done in blues and crystal AB´s they are lovely for brides!

You will need
size 11 seed beads
4 mm fire polish crystals (around 100, maybe a few more or less depending on the size of your hand)
Beading needle
Silamide

I always double my thread for these for strength.

Start by stringing a stop bead,leave the ends long enough to weave back in. Then string a 4 mm, then nine seed beads, if your going to string on your clasp while weaving it like I did, do it now, then a 4 mm, 4 size 11´s, and string back through the first 4 mm, string 5 size 11´s, a 4 mm, 4 size 11´s, then go through the 4 mm crystal. (see diagram below)


Continue working in that pattern for 2-3 inches, 5 seed beads, 4 mm crystal, 4 seeds, down through the 4 mm from the last "row".

When your ready to start increasing, insead of adding 5 beads when you go through the 4 mm at the top, add 4 seeds, a 4 mm crystal, 10 seeds, 4 mm crystal, 4 seeds, then go through the 4 mm added first, then 4 seed, a 4 mm crystal, 4 seeds, and down through the 4 mm at the bottom.

Add 5 seeds, a 4 mm crystal, 4 seeds, go through the 4 mm added in the last row, 4 seeds, 4 mm, 4 seed, through the top 4 mm, then add 4 seeds, 4 mm, 10 seeds, 4 mm, 4 seeds, work down in the same manner as before. Do that for a total of 4 increases.
Work through like you were going to add a 5th increases, instead of adding 10 seeds, et cetra, add 50-60 seeds for a finger loop, check it against your hand to see how many you need, make sure you have a little slack for closing and moving your hand. Go back through the 4 mm, and work down the usual way.

Now to start decreasing down the other side!

Work back up to the point you need to decrease, and add 10 seed beads,and work downwards. (see diagram)


Decrease 4 times, and then work the same number of 5 seeds, 4mm crystals,4 seeds combos you did on the other side. When you get to the end, add 9 seeds and the other end of your clasp. Tie off and work in all loose ends.


Here is the graph of the hand part of the bracelet.



Related Articles
Editor's Picks Articles
Top Ten Articles
Previous Features
Site Map



Follow @shala%5Fbeads
Tweet





Content copyright © 2022 by Shala Kerrigan. All rights reserved.
This content was written by Shala Kerrigan. If you wish to use this content in any manner, you need written permission. Contact Shala Kerrigan for details.