Complementary Colors and Triangle Earrings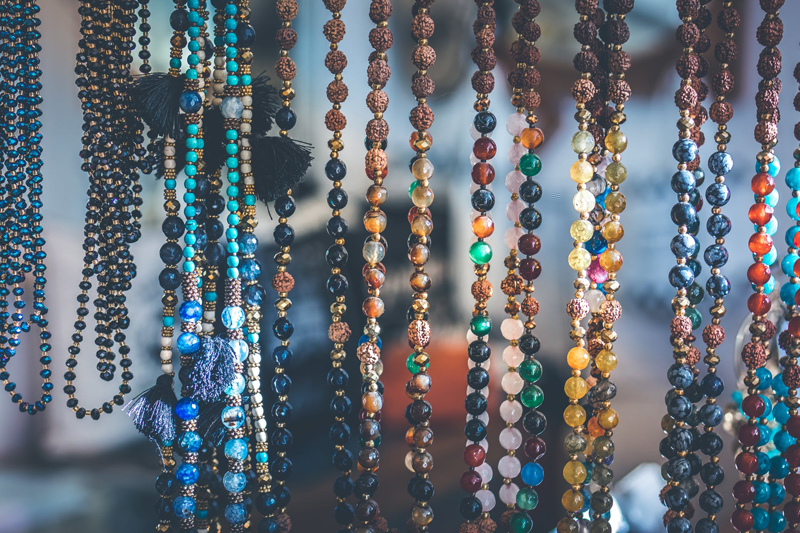 Recently in a bead chat, an experienced beader mentioned how much she loved an earring design and posted a link. I was a little surprised because the earrings she was showing are a very popular and common design up here so it wasn't something that I thought of as new or exciting.
They were triangle earrings done on a foundation of bugle beads with bugle beads in the long fringe.
Generally they are made without using a pattern and in simple triangle patterns. First the top is beaded. The bugle row is ladder stitched, then the top is beaded off of that. If you need a refresher in ladder rows, check the Basic Beading-Brick Stitch link at the bottom of this article.
After the top is beaded, fringe is added. Each fringe increases from the top a set number of beads. So if the first fringe is AAA, B, C,B, bugle, B,C,B and you want a softer taper, the next row might be AAAAA,B,C,B, bugle, B,C,B and the next would have 2 more A beads until the middle when it starts decreasing the same count.
The other part of why these earrings are so striking is the use of color. Frequently, these only use one color of bugle bead and it will be a strong contrast like black or white, or if it's a mostly orange and blue earring, yellow might be used for the bugles.
They are made frequently using complementary colors, which are colors that are direct opposites to each other on the color wheel.
Contrasting colors, colors which directly oppose each other on a color wheel, are something a lot of us were told "clashed" and should never go together. It's not true. They stick out in peoples minds because they are so striking. Look at Christmas. Everyone knows red and green are Christmas colors. Football teams do the same thing. Like my husband's favorite team, the Chicago Bears who's colors are orange and navy, which oppose each other, and white which like black provides sharp contrast for every color. More on using black and white in a moment.
Colors that oppose each other are easy to remember starting from the primary/secondary colors. Red is opposite green, blue is opposite orange, and yellow is opposite purple. When you move away from those clear colors, then the opposites shift as well, so a purple/pink color is opposite a yellow/green.
Looking at the spots, you also get a feeling for what tone can do. If the lighter color is on the outside, it opens a design and makes it seem a bit larger, if it's on the inside, bound with the darker color, it looks more contained and a bit smaller. All those circles are the same size.
Tone or value is how bright or dark the color is. So if you want sharp contrasts, what works best is using different tones.
That's where black and white come in very helpfully. If you're using a dark and medium tone, 2 medium, or 2 dark, white will contrast with both colors, if you're using a light and medium,2 medium, or 2 light, then you can use black and it will contrast.
If you're using a light and dark tone for your seed beads, that's the time to break out the colored bugles and choose one you think will look good. I like using a complementary color to one of the shades in my pattern.
The nice thing about these earrings is that they work up fast and well using inexpensive seed beads, and they really look good in opaque colors. So it makes a great way to play with finishes and colors. You can download a printable 8x10 sheet with 5 earring graphs
here
. Click the back button to return here.
If you'd like more information on Brick Stitch Earrings, check out my Kindle book,
Basic Brick Stitch Earrings
. If you're an Amazon Prime customer, you can read it for free.
You Should Also Read:
Basic Beading- Brick Stitch
Brick Stitch Variations


Related Articles
Editor's Picks Articles
Top Ten Articles
Previous Features
Site Map



Follow @shala%5Fbeads
Tweet





Content copyright © 2022 by Shala Kerrigan. All rights reserved.
This content was written by Shala Kerrigan. If you wish to use this content in any manner, you need written permission. Contact Shala Kerrigan for details.